The power of data
"The world's most valuable resource is no longer oil, but data," wrote IT expert and founder of the data management company Igneous, Kiran Bhageshpur in an article for the Economist in 2017. In fact, just a few years ago, it was all about the sheer volume of data. The common perception is that those who collect a lot of data gain competitive advantages. This was countered by concerns, for example around the issue of data protection and the prejudice that data was only something "for the big companies".
However, current technological developments have added a whole new dimension to the application of data.
Through the use of artificial intelligence or "machine learning", data can be filtered, checked, processed and correlated in such a way that it helps small and medium-sized companies and organizations in particular to optimize their business and compete. Many tourism players are already more data-driven than they realize. Quite unconsciously, they have already become part of an all-encompassing digital world.
Now it's up to them to chart their own course on this digital journey.
Market changes
In classic tourism marketing, providers tried to reach their target group – often with great wastage, for example with ads for vacation apartments in local daily newspapers. Today, it is increasingly the global online travel companies (OTC) that already know their potential customers and use this knowledge to offer them suitable offers in a targeted manner – provided they find these offers. Their digital services then shape the entire travel experience – from inspiration to reservations and useful and safety-related information during the trip to sharing experiences with friends (referrals).
Only those who understand and speak the language of new technologies will benefit from the digitalized travel industry.
Changing customer habits
Because it's not just the marketers' technological options that are developing dynamically. Travelers have also long since adapted their consumption habits to the new digital possibilities.
Thus, human language as a natural form of communication between people is also shaping communication between people and digital devices – in the form of voice assistants, chatbots, and so on. As early as 2024, there are expected to be more voice assistants than people worldwide. However, this technology relies on adaptive software, which in turn requires the availability of appropriately processed (semantic) data.
When traveling, smartphones can already be a kind of master key to information and services.
The linking of the booking process stored in the individual smartphone with the personal data stored there (e.g. vaccination status), with current location, weather and traffic information and the navigation system in the car, for example, paves the way for a congestion-free journey from the surrounding area to the train station in the city center. On call, our travelers are assigned a free charging station for the e-car. On the train, passengers no longer have to take out their smartphones to check their tickets because they have been identified by automatic check-in.
More and more possibilities of digital support offer the traveler more comfort, safety, sustainability, individuality and experience, when the hiker is guided to the farm with the open estate tavern, the car driver is shown an interesting museum near his route or an alternative "fair weather route" is recommended.
The Knowledge Graph, whose development is being coordinated by the GNTB, is a project for the entire German tourism industry. After all, the idea of making tourist offers globally discoverable and successfully marketing them and developing high-quality services locally only works if a very broad base of data is available for the Knowledge Graph.
In the first step, data from the domains Point of Interest (PoI), tours and events have already been included.
Information on accommodations, gastronomy, cities and bookable offers can be imported directly since milestone 2 and thus continuously updated. The prerequisite, of course, is that these are available in high quality.
Stories (text, image and audio files) as well as businesses and people can be integrated until the live launch in January 2023.
The Knowledge Graph can be made even more useful by linking it to other relevant information, such as public transport timetables, weather and traffic information, and much more. To this end, the GNTB is in intensive contact with third-party providers.
Of course, much of this information is stored on websites or available in apps. However, guests' demand for convenience also includes the fact that they do not want to constantly switch back and forth between different channels while on the move, when a complex application links many services together. Google has already developed a solution with so-called "Search Widgets" that constantly collects information from various apps in the background, updates it and makes it available to the user in bundled form.
To begin with, in order to lift and structure the huge and constantly changing treasure trove of data, the GNTB works closely with the federal state marketing organizations (LMO) and Magic Cities (MC). They know the offers and partners on site and ensure the data transfer between the service providers importing data and the partners. Only in this way can the Knowledge Graph be placed on as broad a basis as possible. Coordination via the tourism organizations of the federal states ensures technological competence right down to the destinations; at the same time, it enables equal opportunities for the states in competition.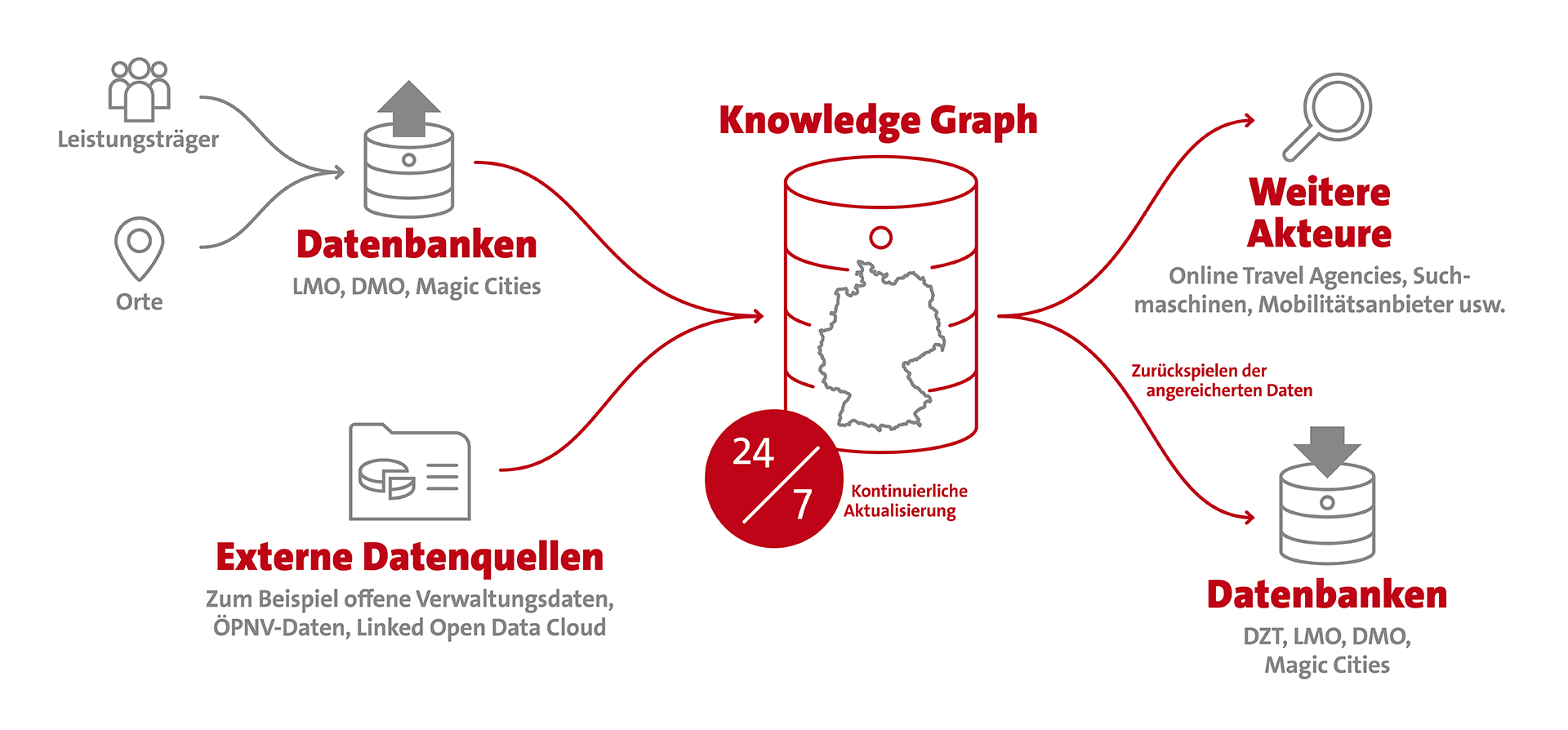 Many LMOs have already recognized the opportunities and challenges of structured data and have built corresponding databases. You can find out about the current status for your own state here.
Tourism-related companies as well as destination organizations can provide their data to the LMO. This content is prepared accordingly and connected to the Knowledge Graph via a direct interface.
What's next?
The GNTB's knowledge platform offers a practical introduction to the world of open data with its compact overview of 10 tips for open data. Here you will learn everything necessary for the first steps.
In the second quarter of 2022, it is planned to open the Knowledge Graph to the German tourism industry. One thing is already certain today: the more data is available now, the better a product can then be presented.
The Knowledge Graph not only gathers several databases under one roof. By linking individual data, it enables an unprecedented quality of services for the guest and added value for all tourism businesses from farm stores to state theaters.
From the complexity of the data, commercial enterprises can develop new business ideas that benefit all stakeholders in the tourism industry.
Asger Schubert has worked for more than 20 years as a PR consultant and PR editor for companies and organizations in the tourism industry, aviation, location marketing, and the technology and service industries. After holding management positions at several large agencies – including tourism PR agency of the year ten times – he founded madkomPR in 2013.