The German travel market is fragmented which makes managing destination data, POIs and other experiences all the more important. Open data sets, the Destination Germany knowledge graph and the use of artificial intelligence will provide a clearer picture and form the basis for new applications and services.

by Thomas Reintjes, freelance science and technology journalist
"I want to go to Ibiza." could be the type of request handled by the system from AI experts Adigi. But according to Adigi's founder, Nicolas Götz, very few people want to just travel to Ibiza; they want to go there to party. The company's artificial intelligence, which has been designed to help online travel agencies and tour operators automate their processes, autonomously responds to customer emails by sending suitable offers or asking questions to narrow down the packages." "But I can't simply ask: Do you really want to go to Ibiza, or do you just want to party?" says Götz. Instead, his company is experimenting with images and related questions, such as: "Which image best meets your requirements?"
If the customer enquiry contains a booking request for two adults and two children, that question becomes superfluous. The AI can simply select family-friendly hotels. Where possible, further information can be gleaned from the email, such as travel dates, departure airport and hotel rating. Comparing this with suitable inclusive package tours in the next step is easy, at least in contrast to other types of holiday, says Götz.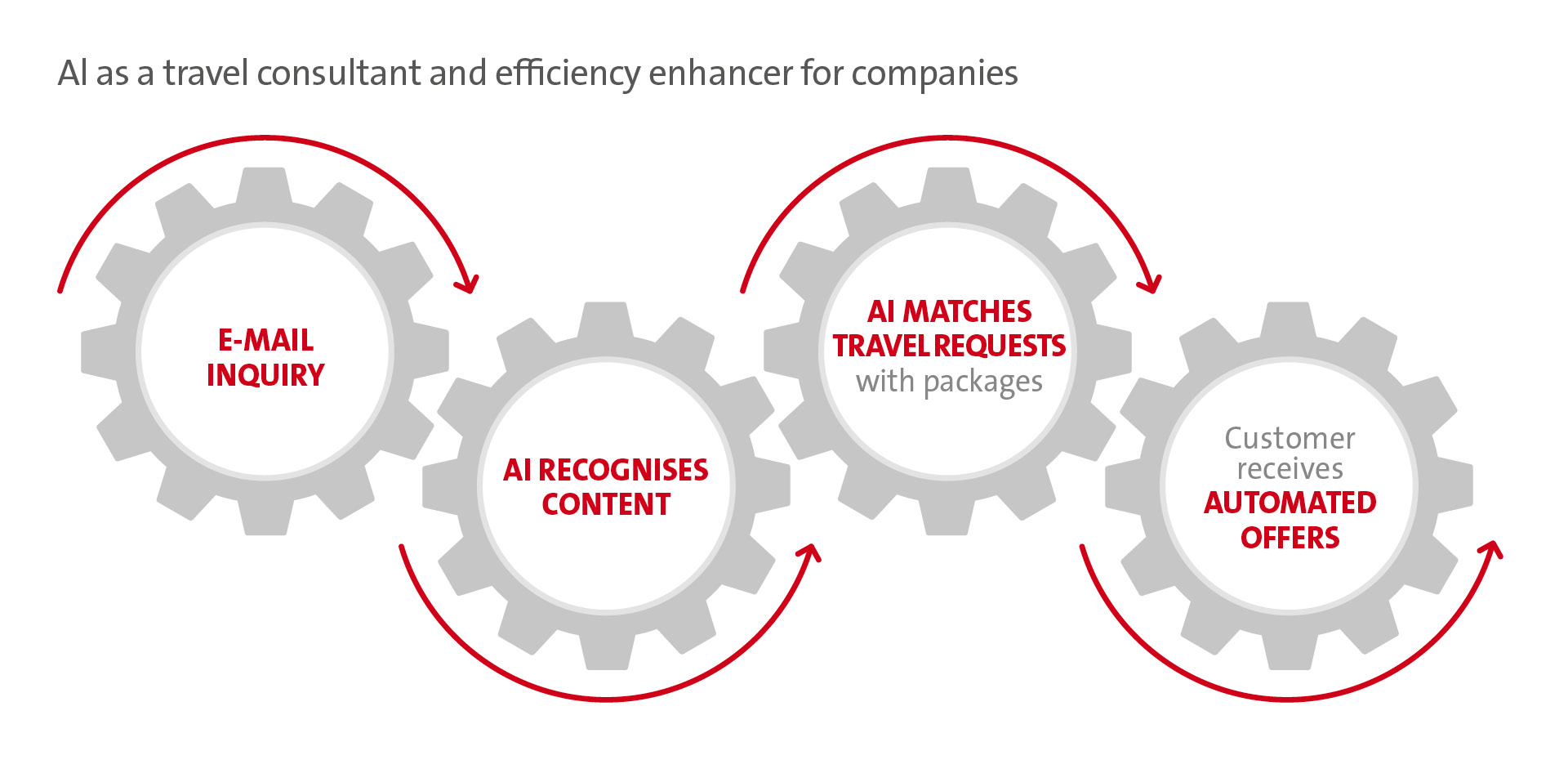 Fragmented Markets Pose a Challenge for AI Systems
AI would find it much more difficult to respond to requests for a holiday apartment by the Baltic Sea or a holiday on a farm in the Allgäu, for example. "The market is fragmented. There's no such thing as a single vendor that has all packages in its portfolio," says Götz. "There are simply too many different booking systems, all with their own logic, and their own criteria and attributes assigned to the offerings." In the case of package tours, Adigi uses an interface to Amadeus, with each hotel assigned hundreds of standardised attributes, from the details of the mains voltage to the size of the breakfast room. All of this information is visible online.
Ensuring that destination data and POIs in Germany are equally visible remains a major challenge, but it is also an important task. The German National Tourist Board's knowledge graph project is laying the foundations for this. It relies on a database of detailed, high-quality data on German destinations provided by the regional marketing organisations. Semantic annotation is used for this content. The underlying ontology is based on Schema.org, a kind of dictionary for structured data, which ensures that the contents are labelled uniformly and that the assigned attributes follow a certain hierarchy.
Linking Data Points Ensures Sensible Suggestions
This makes it possible to relate the individual pieces of content to each other using what is known as a graph database. e. Every single data point becomes part of a network and has connections to many other data points. From this, it is possible to determine which inns are located along a hiking trail, for example, or which beach can be reached by train.
The knowledge graph enables this type of data analysis. The GNTB makes semantically structured data available, and it is down to start-ups and other innovative companies to develop the relevant applications. That is why it is so important to make the data openly available, i.e. accessible to everyone in principle and provided with a licence that permits free use and commercial exploitation.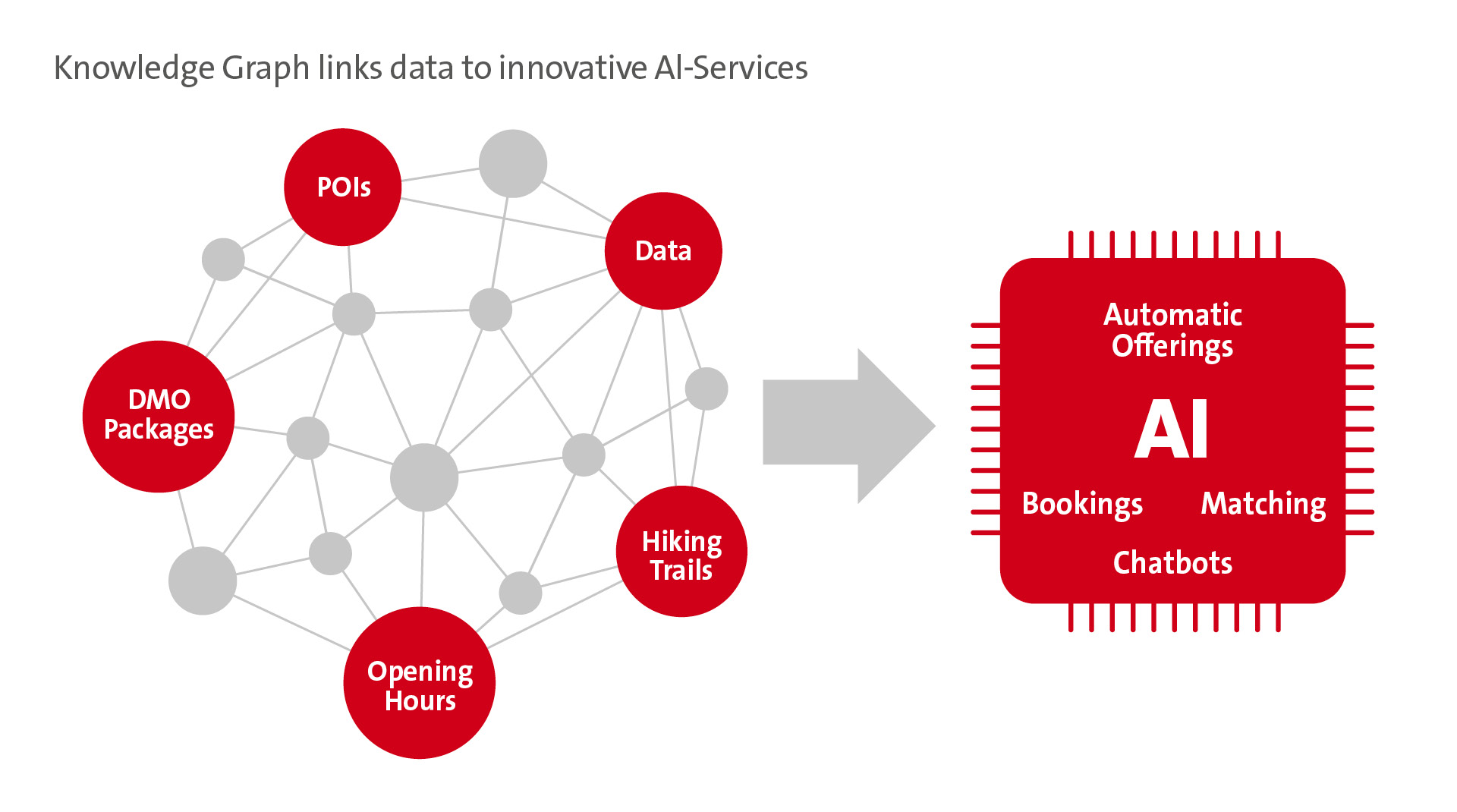 The GNTB makes semantically structured data available, and it is down to start-ups and other innovative companies to develop the relevant applications.
High-Tech Start-Ups are Emerging
"Data is key to making Germany accessible for tourism applications," says Dr Tanja Emmerling, a partner at seed investor HighTech Gründerfonds (HTGF). "But the industry is still some way off being able to use data points and automation to create new offerings." Back in 2015, for example, HTGF provided the Berlin-based booking company Bookingkit with seed capital to digitalise the leisure sector. Bookingkit used the money to develop software that helps the providers of local attractions and experiences to sell, manage and market online. While there are still too few well-funded start-ups like this, Emmerling is confident that new AI start-ups will emerge in the German travel industry. But digitalisation is essential before more data can be automated and processed. The industry has a lot of ground to make up in this respect.
The GNTB's knowledge graph could open up new opportunities for start-ups such as Bookingkit and Adigi. "It will be a huge help for us," says Nicolas Götz of Adigi. He wants to expand his company's activities beyond the package tour business; initially probably to cruises, but also to holidays in Germany. Information about destinations and accommodation in a standardised format would allow him to do that. He also sees opportunities to expand his business model and offer customers not just a holiday but also the excursions and activities that go with it.
Linking Different Data Sources
"The pandemic has underlined how important linking different data sources could be to the travel industry," says Dr Emmerling. Currently, travellers still have to painstakingly gather information about the situation at their destination and gauge its impact on travel and related bookings. "The merging of data could enable a better, AI-assisted customer experience over the entire journey, from transport and payment to the experience itself and much more besides," she adds. "There is still a lack of available data, and not just in tourism, because data protection limits the way in which offers can be personalised. But there will be technical solutions for that too."
There is certainly no shortage of data at internet giants such as Facebook and Google. In recent years, Google, in particular, has expanded booking options – everything from flights to restaurants – on its platform. But many smaller, regional or local providers are not represented here. Open data, linked in the GNTB's knowledge graph, will help destinations gain more visibility on search engines. Most importantly, new applications and services will emerge that are focused on specific regions or target groups.
Data protection limits the way in which offers can be personalised, but there will be technical solutions for that too.

by Dr. Tanja Emmerling, Partner at High-Tech Gründerfonds
Potential for B2B Applications
Dr Emmerling believes there is still room for new players on the market: "On the one hand, tourism is a market that is very much determined by who has the most data, makes it the most accessible and can operationalise it the best, which favours consolidation. At the same time, there are many opportunities to gain customers by cutting out the middleman." Emmerling sees further potential above all in the background, in the B2 Emmerling sees further potential behind the scenes in the B2B sector: "Identifying and processing data, matching it, putting it to use in existing systems – progress needs to be made in all these areas," she says. "There is a lot of untapped potential in the tourism industry." B sector: "Recognition and processing of data, matching, the enabling of existing systems, all this has to be developed. There is still a lot of potential in the tourism industry."
Nicolas Götz's company is an example of a B2B application based on data that in principle could also be used by others. Adigi sells its AI, which analyses customer emails and makes booking suggestions, to travel agencies and online providers. He is not worried by the fact that open data implies that the data is available to anyone.
Forecasting Visitor Flows
Götz also dismisses the widespread concern that artificial intelligence will replace human workers. Quite the opposite, he says: "AI supports travel consultants. But it is the people – in call centres, travel agents and tourist information offices – who have a feel for what customers want. Where AI can help is by speeding up the process of finding suitable offerings."
Future applications will go far beyond that. For example, an app could give a business traveller recommendations for leisure activities after work. In the background, an AI could merge event data, weather data and booking data from the city and use it to predict traffic flows, keep an eye on parking availability or plan the distribution of taxi fleets across the city. In the same way, you could also forecast how often litter bins in a nature reserve need to be emptied.
Go-Live from Mid-2022
The 'strandticker' application, for example, demonstrates that something similar is already possible today. It uses sensor data, weather information and seasonal travel patterns to manage visitor flows at the beaches in northern Germany's Lübeck Bay. And in New York, local company Foursquare has joined forces with the operator of the LinkNYC displays found throughout the city. Visitors and local residents can charge their mobile phones at the displays and get information tailored to their location. A recent addition to the displays is crowd predictions, which can show, for example, when supermarkets in the vicinity will be busy and how busy they will be.
By collating and maintaining data, tourism organisations across Germany are laying the foundations for new routes, destinations and activities. The basic system is in place. Now it is about testing the functionality before the knowledge graph can go live in 2022.
Thomas Reintjes is a freelance science and technology journalist based in New York. He writes for magazines and reports for radio. The 44-year-old has won several awards for his work, including the Georg von Holtzbrinck Prize For Science Journalism for the radio feature "Machines don't lie – When robots play with the truth."