Structured Data and SEO
.
Search engines are becoming answering machines
.
The representatives of regions and places as well as hosts are usually the ones who manage basic information such as addresses or opening hours. Therefore, it is necessary to motivate them to improve the quality of data in the field. Search engine optimization (SEO) can be a great help, because tourist destinations and hosts as well want easily to be found online by potential guests – and he perfect gateway for this are search engines such as Baidu, Bing, Google and Yandex.
The ways to become visible on the web are constantly changing because search engines are also constantly developing their algorithms. There are many indications that Google aligns its search results with semantic contexts in order to quickly display context-specific answers to users. Users can now read these answers directly, without having to first select a link from a long list, click on it and navigate on the page. What is the weather like at the moment, when is the museum open, what events are taking place this week? Users now usually receive answers to such questions directly at the top of the search results.
If, for example, the search terms "events Frankfurt" are entered, the first results are no longer website links but references to individual events. At first sight, it is not obvious for users who the sender of the displayed information is. However, this is also not mandatory for them to get an overview of upcoming events. It is important that the data displayed is complete, correct and up to date, so that they can orientate themselves when preparing for a trip or in the holiday region.
The Benefits for Companies and DMOs
These direct responses are also known as "featured snippets," or highlighted search results. The answer to the question asked is immediately displayed to users in the form of a highlighted paragraph, list or table. Due to its strong presence, this form of representation is alternatively called "position zero". In tourism, there are different types of data that are displayed in the form of such featured snippets: Local industry listings, reviews, events or even recipes are among them. But how do tourism players like hosts or DMOs appear in featured snippets? It helps Google if details are accurate and clear. In this way, several events or a list of (tourist) businesses can be displayed consistently in the search results. One way to do this, which is also used by Google along with other methods, is structured data. Google can understand these and display it accordingly.
More visibility in featured snippets can be realized in tourism through structured data in local business listings, reviews, events and recipes, among others.
Structured Data for Search Engines
Structured data is playing an increasingly important role for Google and other search engines, because a consistent structure makes it possible for machines to understand it immediately. For hotels, structuring data means, for example, that basic information such as the address, geo-coordinates, number of rooms or star category is available in a predefined structure. For humans, a data structure is less important than for machines. People can recognize that statements such as "8 o'clock", "at eight in the morning" and "at 8:00 in the morning" always mean the same thing. As far as machines go, the interpretation of such heterogeneously structured data is prone to error.
Since a machine-readable format is one way for the Google search engine to display information in a standardized and prominent way, this data may be integrated into websites in the background in order for Google to use it for this purpose.
Structured data helps machines interpret information and put it out in a context-sensitive way.
A vocabulary has been established for these machine-readable descriptions with the purpose of unambiguously designating content: schema.org. This consistent description framework, which is comparable to technical documentation and is referred to in technical language as an ontology due to its knowledge-oriented structure, specifies the form in which information about certain data types, e.g. events, must be stored so that they conform to the respective schema. For events, in addition to a name, the address of the venue, the date and time, the ticket price, the artist, the language in which the event takes place, etc. must be stored in a specific form. For all this, schema.org provides a clear framework.
Once these data types have been marked up using schema.org, they can be integrated into the website using a machine-readable format such as JSON-LD. This is an important basis for ensuring that content from a particular data type is displayed before the regular search results.

Descriptions directly in the HTML code can be understood by humans, machines need support for this. One possibility is structured data by means of a markup according to schema.org
What is the Google Knowledge Graph?
Google strives to provide users with a direct response to their query regardless of the use case (desktop, mobile or voice-based). For this purpose, Google has already been building a Knowledge Graph for several years, which integrates different data sources. For example, if a user enters "Büsum" as a search term, the Knowledge Graph can also be used to display information about the Wadden Sea, the number of inhabitants, the area, the weather, etc. in the search results. Usually this is done in a separate box on the right side (OneBox) of the search results. Mobile search answers are also above the regular results. In addition, geographical information is provided in Google Maps, pictures of Büsum are displayed, etc.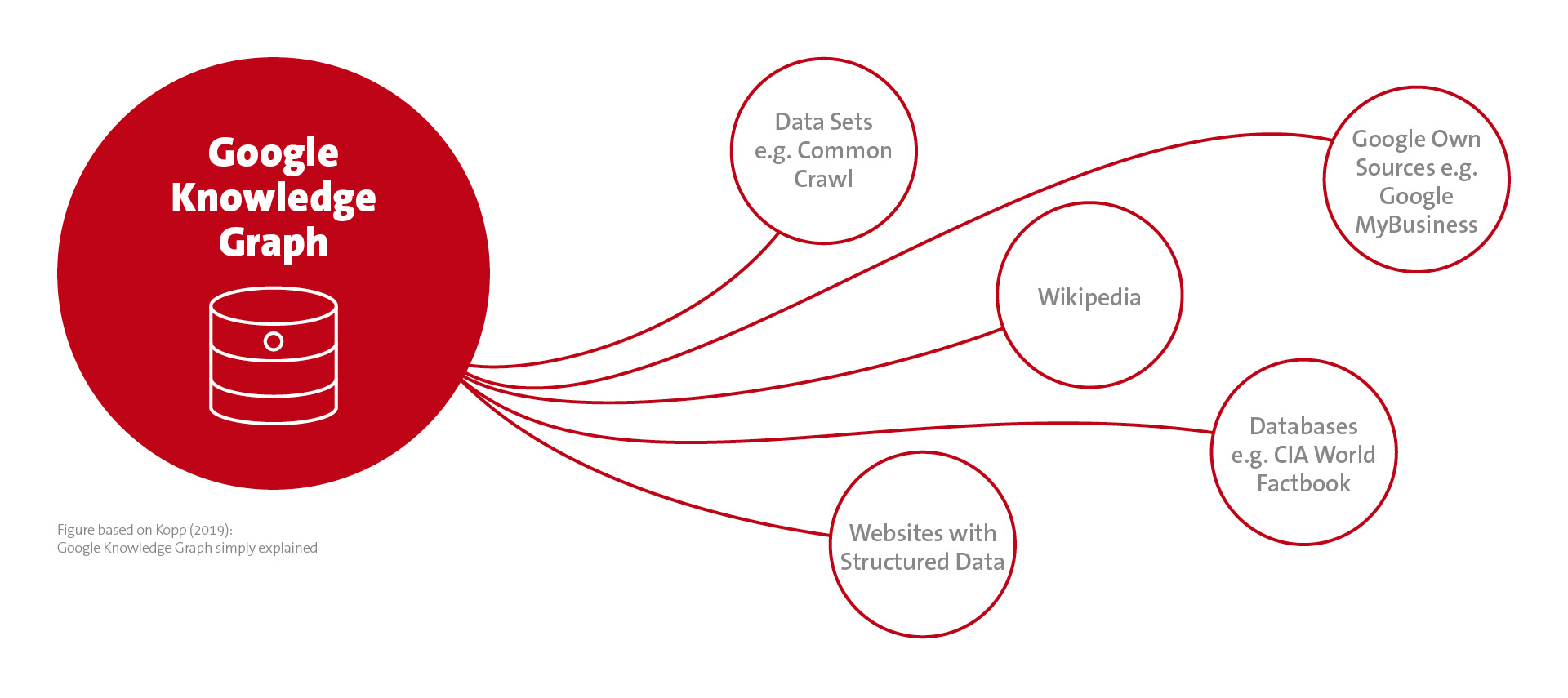 The overall goal of the Knowledge Graph is to connect information that is peripherally available on the Web and match it to the search query at hand. Places, people, and other information are thus correlated, and results for anticipated search queries, which the users do not need to have formulated. The word "knowledge" refers to the claim to create knowledge from information. It becomes clear that for such functions the relationship of the data to each other becomes considerably more relevant. The Knowledge Graph thus becomes the central knowledge base that can also be used by Google Assistant, Google Maps and many other Google applications. One of these data sources are websites (e.g. of service providers) on which data structured according to schema.org have been stored.
Advantages of Structured Data for Tourism Businesses and Places
Better Visibility on the Web
Businesses benefit directly, because structured data is one of the basis for visibility on Google and other search engines in the featured snippets.

Basis for Voice Assistants
Guests don't just search websites or Google anymore. They also talk to voice assistants, "O.K., Google," "Hey, Siri," "Alexa." Digital assistants use algorithms trying to understand questions and convey an answer via voice feedback. Structured data based on an ontology such as schema.org can be better understood by machines and therefore form the basis for providing context-sensitive answers.

Focus on the Future
The data structured within your own website can be accessed directly by Bing, Google, etc. (crawling). Since this data is now openly available anyway, it makes sense to make it available to other providers as well. One goal of the open data project is the transfer of the data into a data hub at state level and the subsequent integration into the Knowledge Graph of German Tourism. There, they are open and available for further use in a modern data architecture on a large scale.
West Coast University of Applied Sciences
Eric Horster ist Professor an der Fachhochschule Westküste im Bachelor- und Masterstudiengang International Tourism Management (ITM) mit den Schwerpunktfächern Digitalisierung im Tourismus und Hospitality Management. Er ist Mitglied des dortigen Instituts für Management und Tourismus (IMT).
Mehr zur Person unter: http://eric-horster.de/
Elias Kärle ist Wissenschaftler an der Universität Innsbruck. In seiner Forschung beschäftigt er sich mit Knowledge Graphs, Linked Data und Ontologien. Als Vortragender referiert er meist zur Anwendung und Verbreitung semantischer Technologien im Tourismus.
Mehr zur Person unter: https://elias.kaerle.com/